Jennifer Smeltzer
America's Top 100 Realtor
MEET JENNIFER SMELTZER: Your Kansas City Real Estate Expert

Named one of America's Top 100 Real Estate Agents in 2019, 2020, 2021 & 2022, Jennifer Smeltzer has become Kansas City's "Go to" agent, investment adviser, and real estate trainer.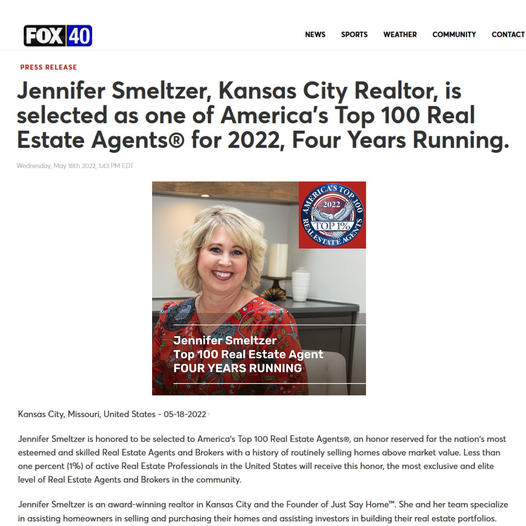 Why I'm Different
Leveraging my experience as a successful business owner and real estate investor, I am known for outstanding client service and availability, high tech marketing techniques, consistent communication, and personal touches. Additionally, I am recognized as a skilled negotiator with my client's best interests at heart. I cut my teeth eleven years ago working in real estate investment and property management firm, then became a Realtor. Now, in addition to averaging 100+ sales a year, I teach other agents across the Kansas City market area and beyond as an instructor with Career Education Systems.

Listing Agent
When selling your property, my team and I use system-based models alongside cutting edge technology, to make certain your property reaches qualified buyers. My extensive agent and client databases ensure that I find the right buyer and get you the most money for your property.

Buying Agent
I make house buying simple, from learning your needs, navigating your home search, sharing proprietary market values, negotiating favorable terms, handling the paperwork, connecting you with local service professionals, and more!

Investor Specialist
As an investor in properties throughout the Kansas City area, I have propitiatory tools to find other investors the highest ROI deals in the market.

In My Free Time
I enjoy the water - so sailing, jet-skiing, paddle boarding, and tubing are some of the ways I spend my free time. I also enjoy spending time with family, friends, and lovable dogs.