Expert Home Price Forecasts Revised Up for 2023
Posted by Just Say Home KC Team on Thursday, September 7, 2023 at 4:31:11 PM
By Just Say Home KC Team / September 7, 2023
Comment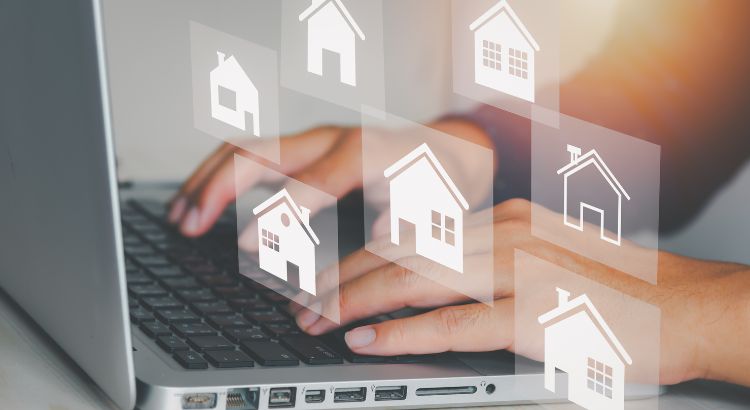 As we reached the end of last year, several headlines reported that home prices would fall substantially in 2023. These projections ushered in anxiety and questions about whether the 2008 housing crash would be repeated. However, the headlines were wrong.
While there was a minor home price correction after the sky-high price appreciation during the 'unicorn' years, home prices did not come crashing down nationally. If anything, prices showed much more resilience than people were expecting.
Let's compare the expert forecasts from late last year against their most recent predictions to show that even the experts acknowledge they were overly pessimistic.
Expert Home Price Forecasts: Then and Now
The visual below shows 2023 home price forecasts from seven different organizations. It provides the original 2023 forecasts (released in late 2022) for the future of home prices by the end of this year and displays them alongside their most recently revised 2023 projections (see chart below):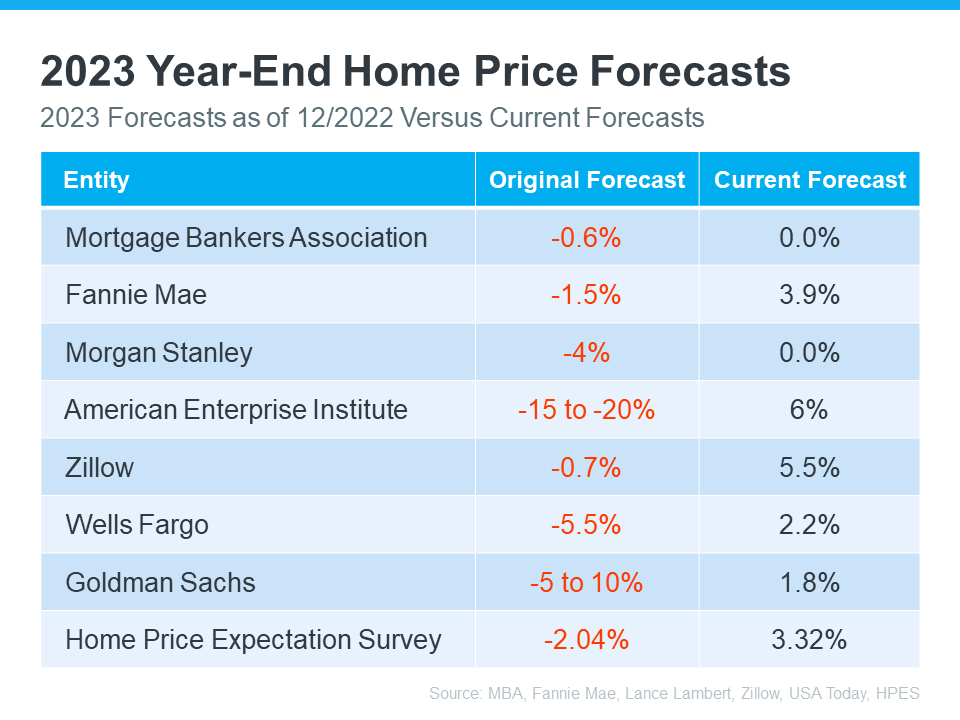 The red in the middle column shows that their original forecast called for home prices to fall in all instances. The right column demonstrates how experts have updated their projections for the year-end. Experts now anticipate prices to either remain flat or have positive growth. This is a significant change from the original negative numbers.
So, why is it that home prices are so resilient to falling? There are many reasons. As Odeta Kushi, Deputy Chief Economist at First American, says:
"One thing is for sure, having long-term, fixed-rate debt in the U.S. protects homeowners from payment shock, acts as an inflation hedge - your primary household expense doesn't change when inflation rises - and is a reason why home prices in the U.S. are downside sticky."
A Look Forward To Get Ahead of the Next Headlines
You can expect the future to hold many more misleading headlines about home prices. Why? There's seasonality to home price appreciation, which often leads to misunderstanding. Here's what you need to know to stay ahead of the next batch of negative headlines:
Activity in the housing market typically slows at the end of each year, and you can expect this trend to continue in 2023. As this activity slows, home price growth will slow as well. This doesn't mean prices are falling! Instead, they are not increasing as fast as when the market was in the peak homebuying season. Deceleration of appreciation is not the same thing as home prices depreciating.
Bottom Line
The headlines have an influence, even if they're false or misleading. The media reported home prices would decline significantly in their coverage at the end of 2022, but that didn't happen. Having a trusted resource to help you separate fact from fiction with reliable data is invaluable. The Just Say Home KC real estate experts closely monitor housing market trends and can help you navigate the Kansas City market as it changes. Are you considering buying or selling your home? Our team is ready to make your experience simple and enjoyable!